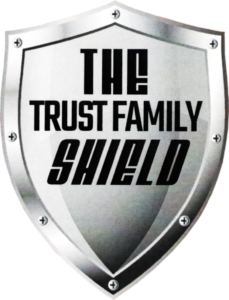 Warranty Information
Shield Your New Investment
Certified Limited Warranty Included
All Trust Family Auto Sales vehicles are protected with a 3 month, or 3,000 miles certified limited warranty that provides our customers peace of mind from unforeseen and expensive repairs. This is one of many advantages of purchasing your next vehicle from our dealership.
Extended Warranty Available
Above and beyond The Trust Family Sheild, we offer extended warranty options to fit your needs. Our vehicles can be protected from 3 months up to 10 years, with mileage from 3,000 miles to unlimited miles.*
*All Extended Warranty options based on vehicle year and mileage at the time of purchase.
Drivetrain Agreement Includes:
Engine – Engine parts consisting of Crankshaft and bearings, oil pump, oil pump pickup/screen and tube, pistons, piston rings, wrist pins, connecting rods, and rod bearings, timing gears and chain or belt, timing tensioners/guides, balance shafts, camshaft, and camshaft bearings, push rods, rocker arms, rocker arm shaft and hydraulic lifters, intake and exhaust valves, valve springs, cylinder head gaskets, and engine blocks.
Automatic Transmission – Transmission parts consisting of Gears, input and output shafts, bearings, front pump, planetary assembly sprags, governor assembly, valve body, torque converter, transmission case, overdrive carrier, reaction carrier, center support, parking lock actuator, stator, and stator shaft, separator plate, pressure regulator valve, dipstick and filler tube.
Standard Transmission – Transmission parts consisting of Gears, input and output shafts, bearings, overdrive housing, and transmission case.
Roadside Assistance
Every customer purchasing a Trust Family Certified Vehicle receives nationwide roadside assistance 24-hours a day, seven days a week for 12 months after their purchase. This program offers emergency assistance for the following:
Towing
Flat Tire
Lockout Assistance
Battery Service
Fuel, Oil, Fluid, and Water
Jumpstarts
Collision Assistance
Sign and Drive Program
Emergency Travel Expense Reimbursements
Car Rental, Hotel, Travel, and RV Discounts
Covers Vehicle – not restricted to only one driver
Transferrable Coverage
No Maximum Number of Occurences
Coverage extends everywhere in the USA, Canada, and Mexico
Complete Terms & Provisions are Contained Within Each Service Agreement. See Agreement for Limits of Liability & Exclusions.